About the Award-Winning Park
---

We were always talking around campfires about what we want to do with our lives. We were at a small campground just north of Toronto one time and had an ah-ha moment where we realized, 'why don't we do this?'

- Mark Jaycock, Owner

Once upon a time, Mark and Melanie Jaycock had a nice home in Toronto and well-paying corporate jobs with stock options and benefits. It sounds perfect, but sky-high housing prices combined with too much time on the road for work had the couple dreaming about doing something else.
The lifelong campers originally thought about opening a small business in a small town, but had an epiphany one night while relaxing by a campfire: why don't we buy a campground?
As fate would have it, they soon heard about an opportunity around 90 minutes outside of Toronto near Woodstock – an 80-year-old facility called Willow Lake Campground and RV Park. The owners were elderly and ready to retire. The park had no reservation system or website and just had a pool, check-in desk, very basic store, and washroom and laundry buildings. But it was exactly what the Jaycocks wanted.
They acquired Willow Lake in March 2017 and immediately started sprucing up the place: they did a lot of painting; converted the old office into a games room with ping pong, arcade games, air hockey and foosball; updated the recreation hall for marquee events; and built a new office, store and playground.
And the updates paid immediate dividends, as the park was named Best Small Campground in Ontario that year by Camping in Ontario. In 2019, Willow Lake received the Camper's Choice Award for Best Customer Service in Ontario.
Why Premier Campground Management?
---

They have pretty much everything that the others do, but the pricing is so simple – just an initial setup cost and a per reservation fee.

- Mark Jaycock, Owner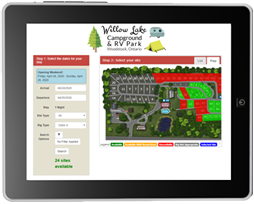 During the months-long process of buying the park, Mark took charge of researching management systems. He found it confusing because there were so many companies out there and each one had so many different elements to them. In many cases, there was a cost associated with each function. He created a spreadsheet to stay organized and contacted a few companies.
"PCM was the only company that did a full-on demo – a webinar to walk me through the software," recalled Mark. "They have pretty much everything that the others do, but the pricing is so simple – just an initial setup cost and a per reservation fee. Others had additional costs that made it so confusing and convoluted. PCM's approach is nice and clean and simple, and you get everything included. For example, competitors were charging $2,000-$3,000 for a POS add-on. I almost thought PCM was too good to be true, but it wasn't and that's the way they operate."
While still living in Toronto, Mark worked with PCM President Billy Chism to design the reservation system.
"I can't say this enough, Billy is probably one of the best partners I've ever worked with from a supplier standpoint. He was always available at the drop of a hat. We had a ton of questions because we had no idea what we were doing, and he was just fantastic about walking us through everything and making suggestions."
PCM Benefits and Results
---

Don't look anywhere else. Save your time and just go with PCM because it's all inclusive.

- Mark Jaycock, Owner

Mark has no shortage of good things to say about PCM's features:
Reservation System: "We receive a lot of compliments from our customers about how easy, convenient and mobile friendly the online reservation system is to use. The ability for people to book online really frees us up to concentrate on running our park properly."
Data Tracking: "The reporting module is very comprehensive and allows you to run pretty much any performance metric you can imagine. Plus, at the end of the year, we can do a simple report that we hand to our accountant and say here's everything – all the sales we've done, reservations, POS sales, taxes."
Point of Sale: "The POS system is fantastic. It's straightforward, simple to use and has everything you need to run a store. We hired our first employee in 2019 and it literally took five minutes of training to get her up and running on it. It's great because you can set up remote locations on it. If we wanted to set up a POS system at our recreation hall for an event, we can do that on a tablet and run everything through the cloud."
Website: "We love the free, single-page website that's included with the system. It's simple and mobile friendly and saves us quite a bit of money in terms of web design or a hosting service. Making edits to the site is also quite easy."
After three years of success and happiness at Willow Lake, Mark has some advice to share with owners in search of a new management system.
"Don't look anywhere else. Save your time and just go with PCM because it's all inclusive. That's one of the most important parts. There are more widely known providers out there, but they nickel and dime you for all sorts of things behind the scenes.
"Billy and his team are amazing to work with. They respond to emails quickly and their service is nothing like I've ever seen. They're open to suggestions for system updates and are an incredible partner. Billy is such an amazing resource. I can't imagine another company having a person like him."

Mark and Melanie have been a pleasure to work with the past three years. They started off as first-time campground owners, but now know the business inside and out and run a top-notch facility. Their awards were well deserved and I'm sure there will be more to come.

- Billy Chism, Premier Campground Management President