About the Park
---

There's no staff better for us than our family, so each brother has come on board after graduating from college. We spent so much time at the campground while growing up that we all know what needs to be done and enjoy doing it.

- Grant Pope, Operations Manager

It would not be an understatement to say that Kamp Dels is one of Premier Campground Management's largest and most influential customers.
Located in the heart of the beautiful Southern Minnesota Lakes Region, the park was opened by Del Pope in 1955. Originally called Del's Blue Spruce Lodges, it began with just a pair of two-bedroom cabins.
Over the years, it was renamed Kamp Dels and Pope's two sons took over the business, growing it into a sprawling destination resort that now has over 500 sites and sits on 80 acres along the north shore of Lake Sakatah. In 2019, the seasonal park welcomed around 15,000 guests.
Amenities include four large playgrounds, a petting zoo, 18-hole miniature golf course, onsite driving range, racquetball court, fitness center, tennis courts, basketball courts, beach volleyball courts, boating, a fishing pond, game room, live music and snack shop.
In 2016, a 38,000-square-foot waterpark debuted, featuring massive 32-foot water slides, a sea creature water walk, 23-foot climbing wall, basketball, volleyball, diving boards and an interactive play structure.
So in recent years, a third generation of Popes has gotten involved – Del's four grandsons.
"Since the waterpark was such a big hit and the campground was growing so fast, some extra hands were needed," said Operations Manager Grant Pope. "There's no staff better for us than our family, so each brother has come on board after graduating from college. We spent so much time at the campground while growing up that we all know what needs to be done and enjoy doing it."
Why Premier Campground Management?
---

I bet if we surveyed the staff, they'd all rate PCM a 10 out of 10.

- Grant Pope, Operations Manager

"Believe it or not, we had an old-school (management) system where we wrote everything on paper," recalled Grant. "We were functioning well, but flexibility was limited and there were a lot of extra steps involved, especially when making deposits, returning deposits and cancellations. We needed to modernize."
"So we started searching for a system that could accommodate us. There are a lot of quirks about us that are very different and a big part of what we do and a big part of profitability in the way we grow. As we shopped around, it was hard to find a one-size-fits-all kind of software. We were looking for something with a lot of flexibility."
Grant liked one company's software, but it wasn't willing to make any changes that the park needed to have to continue operations. The company basically shut the door on him and said it's not possible. Grant also did a demo with PCM President Billy Chism.
"When I threw out a couple of our dealbreakers at Billy, he told me he'd find a way to make it work, and he did. His willingness to work with us showed a lot, as we needed those extra features added to be able to use that software.
"The installation and initial training went well. We were under a tight schedule, as we needed to have the new system implemented and ready to go and the staff trained by Memorial Day weekend. Billy's communication throughout that whole process was phenomenal and he was always available, which was a big help to me and the staff. We had a lot of questions and he always answered them quickly and clearly."
Kamp Dels' staff, which includes a lot of old-school people who were used to paper and pencil, all embraced the system.
"I bet if we surveyed the staff, they'd all rate PCM a 10 out of 10," said Grant.
PCM Benefits and Results
---

If you're looking for a robust, dynamic software company that's easy to work with, listens to its customers and is willing to make changes along the way, I definitely would recommend PCM.

- Grant Pope, Operations Manager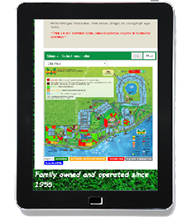 Kamp Dels has continued to offer suggestions for new system features.
"Billy is always willing to improve the system," said Grant. "He's not like others who say what you see is what you get. His constant improvements and willingness to listen go a long way for me. He's a vital part to the kind of campground we are."
Here are some recent PCM upgrades that were made thanks to Grant's feedback.
Customer display screens: "At grocery stores and gas stations, they have a display screen to show what's being rung up so the customer sees what it costs and is OK with it. We wanted to see that so we can be as transparent as possible with our guests. It's a next-level thing and PCM delivered that."
Charge to site: "Customers can store credit card information on file with us when they check in and don't need to carry their wallets with them wherever they go. They just charge items to their sites and pay their bills at the end of their stays. It's increased our revenue because people spend more money when it's more convenient for them."
Minimum night feature: "This is our way of requiring longer stays. It's something we struggled to find with other providers because it's so time consuming to load. Billy added that feature for us, which was a big deal."
Since Kamp Dels didn't use to have an online reservation system, Grant has noticed that call volume is way down, staff efficiency has significantly improved and guests are happy.
"We used to open our phone lines for reservations on January 1. It was a frustrating experience for us because we'd have to return hundreds of calls, and for guests because they had to remember to set their calendar and call on time or else risk not getting the site they wanted. PCM also allows customers to renew sites for next year, which is something we couldn't do before."
"In addition, the check-in process used to be a bottleneck on Fridays with 250 people showing up during a three-hour time period. It used to take 5-6 minutes per guest, now it's sometimes less than a minute."
Grant is a big fan of PCM's software being cloud-based and thinks owners of campgrounds big or small should consider PCM.
"Everything is done over the browser, which is phenomenal. You can access PCM from anywhere. If you're away, you can still answer phones, take reservations, check on the system and see how things are going.
"There are a lot of different options out there, but if you're looking for a robust, dynamic software company that's easy to work with, listens to its customers and is willing to make changes along the way, I definitely would recommend PCM."

I have the deepest respect for the Pope family. They are innovators and have built a tremendously successful resort. Their feature suggestions have made their business more efficient and improved PCM for all my customers.

- Billy Chism, Premier Campground Management President