About the Owners
---

We exceeded our five-year goal to the bank after just two years. After three years owning the parks, it's been remarkable the progress we've been able to make in terms of healing the properties and relationships, and turning around the reviews.

- Scott Warren, Owner

Life is full of providential moments. For Catherine Plourde and Scott Warren, it was meeting a boat captain in Key West and receiving a call from their banker that changed their lives for the better.
Catherine and Scott had been self-proclaimed desk jockeys in Portsmouth, New Hampshire. Catherine worked for a government consulting firm. Scott was a business owner. The town was beautiful but began to grow beyond their taste. They decided a move was in order.
Scott grew up going to the mid-coast of Maine with his family and the couple felt that would be a good area for relocation. It seemed a location where they could be knit in with the growth of a burgeoning community.
The husband and wife team never considered going into the campground business until a fortuitous trip to Key West, Florida when Scott accepted an opportunity to sail to Cuba. The captain of the boat, fondly referred to as Cappy, was a former CPA, restauranteur, campground owner and former board member of the Maine Campground Owners Association. When Cappy learned the couple had an offer on a cottage in Owls Head, Maine, he informed Scott of two nearby campgrounds that were for sale in Rockport.
Intrigued by the idea, the pair returned to Maine to check out Camden Hills Community Campground and Megunticook Campground by the Sea, facilities three miles apart that had been through 11 years of absentee ownership and declining management. The parks were run down, the infrastructure beat up and the reviews poor, but the landscape was beautiful. The potential was clear.
Vocationally, Scott was involved in acquiring and operating self-storage properties, so he quickly discerned the nuances of purchasing assets that generate a yield. He grew up primitive island camping off the Maine coast and although he had never visited a campground, the campgrounds interested him from a financial standpoint. Catherine grew up in campgrounds, as her family enjoyed tenting and hiking in the White Mountains.
Scott and Catherine bought the parks in December 2016 and immediately began investing in repairs and reconstruction. They are focused on developing each campground's culture and target audience, with Megunticook geared toward shorter stays (2 days-2 weeks) and Camden Hills for longer-term guests of a week, a month or a season.
"We exceeded our five-year proforma after just two years," said Scott. "After three years owning the parks, it's been remarkable the progress we've been able to make in terms of healing the properties and relationships, and turning around the reviews. We didn't anticipate this level of success on the near term. We are grateful and excited!"
Why Premier Campground Management?
---

Being user friendly is important because we're training new camp hosts every season. If it's not easy to learn and intuitive, your ship is sunk.

- Scott Warren, Owner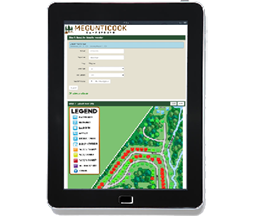 "The previous owners used a very well-known reservation system," said Catherine. "But when I saw it, I thought it was expensive, ugly and cumbersome so we started shopping. We were about to pull the trigger on a reservations system when our banker called."
Scott continued the story, "Our banker knew a software executive who recently purchased a campground and had done a lot of research on reservation systems. He landed on Premier Campground Management. He told us we might want to check it out. It wasn't even on our radar but it quickly became an obvious choice."
The couple was blown away by how user friendly the system is.
"Being user friendly is important because we're training new camp hosts every season," said Scott. "If it's not easy to learn and intuitive, your ship is sunk."
Catherine added, "Our camp hosts have worked at other parks with other software systems. Many rave about PCM because they find it so easy to work with. Once they've been trained, the fact that our team can do what they need to do without a lot of support from me goes a long way."
PCM Benefits and Results
---

We were complete novices with campground operations and I feel that PCM played a role in getting us up to speed because of its reporting capabilities.

- Catherine Plourde, Owner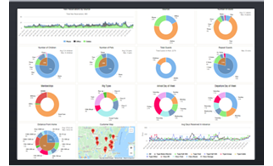 "We were complete novices with campground operations and I feel that PCM played a role in getting us up to speed because of its reporting capabilities," recalled Catherine. "There is an infinite capacity for data collection that we haven't even begun to tap into yet. It's exciting to have that at our fingertips and we plan to dive into using that info more intentionally this year to help drive further growth in our campgrounds."
What they have tapped into is PCM's guest chat tool.
"In 2019, we really started using the feature that allows us to communicate with our guests in the park," said Catherine. "We do a lobster bake every Saturday at Megunticook, inviting guests from both parks. The tool allows us to send out reminders to register at the office or inform guests when the event might be cancelled due to bad weather.
"One of the other things that has impressed me is how often a guest has commented about how he or she loves the reservation system and how user friendly it is to book online. The comments usually come from active campers who say 'I do this all the time and really appreciate how easy it is to use.' That's a big plus for us when you're making your campers happy and they don't have to call the office to assist with booking their reservation."
When calling PCM President Billy Chism for help, Catherine and Scott have been impressed.
"I wonder when Billy sleeps," said Catherine. "When we reach out to him, he responds and always gets the job done immediately. He's consistently providing updates and new or improved features. When I need to learn how to do something new, Billy is so available and really responsive with giving me step-by-step instruction. He's a partner in our growth."
"We've recommended PCM to a number of campgrounds," said Scott. "Plus, we recently switched over to a new credit card provider. When our rep worked with our system, he started recommending PCM to the park owners he knows.
"It's all because of the user interface. It's clean, simple and intuitive. When I think about the system our campgrounds' former owner had; it was so expensive and cumbersome. I think the people out there using that system would have such a weight lifted if they switched to PCM."

I admire how Scott and Catherine managed to resurrect their parks in just three short years, while learning the campground industry at the same time. They are good owners and customers, and they are a pleasure to work with.

- Billy Chism, Premier Campground Management President