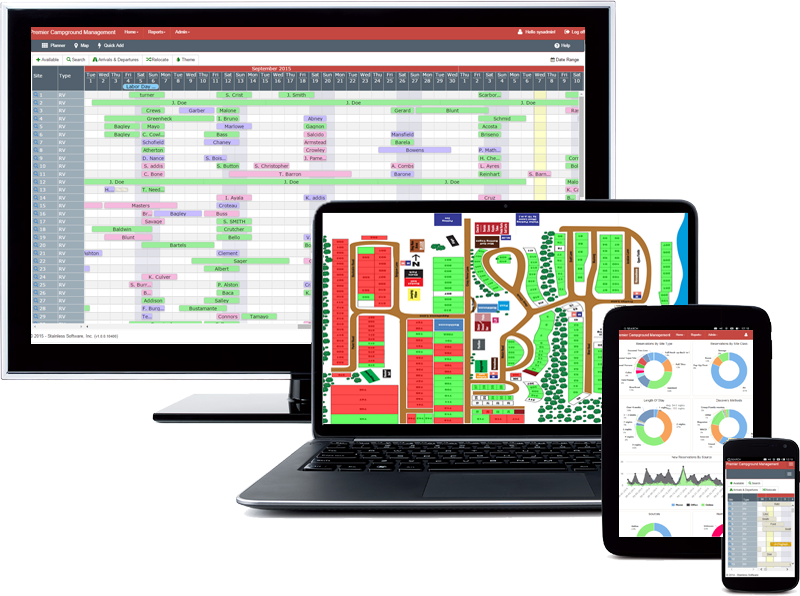 Premier Campground Management (PCM)
Unlock the potential of your campground with our all-in-one, cloud-based management solution.
We offer a comprehensive suite of features that adapts to campgrounds and RV parks of all sizes. From securing online bookings to Point of Sale transactions, we have you covered.
Managing your campground has never been easier with this premium all-in-one solution.
Our system drives revenue. Just ask our customers.
---
Premier Campground Management has a proven track record of helping our customers increase profits, lower costs, improve operations and boost customer satisfaction. We would like to introduce you to just a few of our many satisfied park owners and let you learn more about their positive experiences.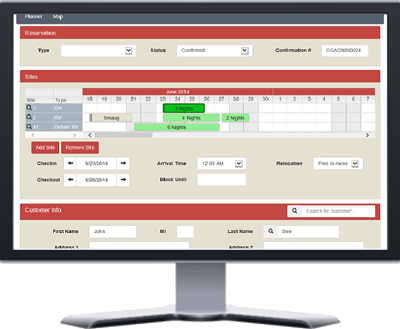 Simple Pricing.
Our pricing is based on the number of reservations that are made. That's it! No plans, add-ons or separate modules. Every feature is included.

Just to be clear, we do not charge based on the number of sites you have, how much data you are storing or a fixed monthly charge. You pay only for each site reservation. You don't pay for empty sites every month, you don't pay for cancellations or no-shows and you don't pay anything in your off-season. We don't charge extra for emails, text messages, gift card or any payment transactions. We don't charge for making changes or moving a reservations. Most importantly, we do not charge extra for supporting our product and helping you when you need it.

This gives you the ability to easily estimate your overall cost for a reservation management system.
Our pricing model aligns our business goal with your business goal - attract more customers and book more reservations.
$2.00
Per Site Reservation
$750
One-Time Setup Fee
90 Day Risk-Free Guarantee
No Monthly Fee
No Minimums or Contracts
No Hardware or Software Purchase Required
No Charge For Cancelled Reservations
Free 24X7 Support
Free Upgrades
Free Email and Text Messages
Free Point Of Sale
Free Website Hosting
"Our online reservations have improved so drastically that we are truly amazed and grateful for the added influx of revenue."

Jeff and Susan Grass, Blue Lake Resort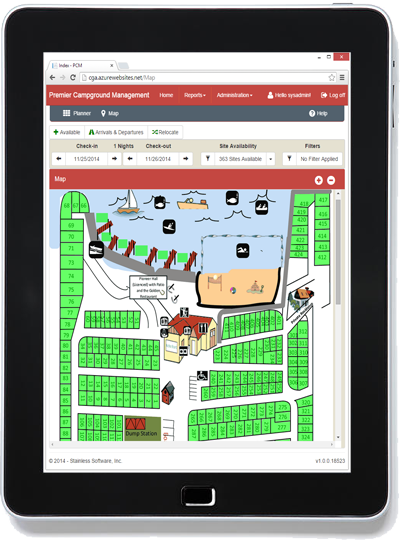 No limits.
PCM is a complete system that provides you with unlimited users, unlimited sites, unlimited reservations, unlimited free upgrades……in other words, no limits!
Reservations
No limits on the number of reservations or customers. No limits on the size or length of storage.
Sites
PCM can manage all of your sites. You can easily support 1000+ sites across multiple site maps if needed.
Users
Add as many users to the system as you need. Rest assured that they will only have the security access that you grant them.
Emails and Text Messages
Send out confirmation emails and text messages to notify customers about changes in their reservations. You have full control of the branding of your notifications and attachments.
Housekeeping
Automatically assign, track and manage housekeeping and other routine maintenance tasks with our powerful task workflow tools. Get real-time updates on task progress and instantly see when a site is ready for the next guest.
Add-Ons / Products
Offer all of your add-on products and increase cross-sells to online customers.
Lookups
You are in control of all lists in PCM. Add as many as you need. Are we missing a field? Add one yourself! Add as many new fields as you need with our custom form field support.
Upgrades
Don't worry about getting stuck with an obsolete system. PCM is always evolving and upgrades are always free.
"PCM has been a very good investment for us."

Gerald and Ann Janauer, Horseshoe Acres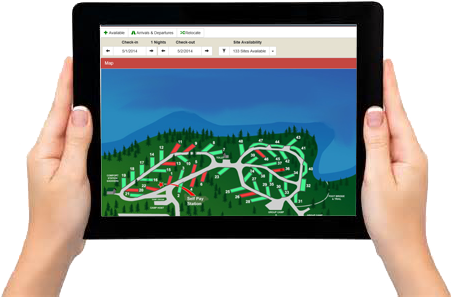 Power And Flexibility.
PCM is an easy to use cloud-based reservation system that allows you to manage your campsites with ease, control and efficiency. We offer an unrivaled combination of power and flexibility at an affordable price.
Mobile Friendly
PCM was built from the ground up for use with mobile devices which have become the device of choice for guests requesting a campground reservation.
Pricing
You are in complete control of your rate structure with our flexible rate calculation engine. Set and adjust your rates using any reservation or customer attribute.
Available Anywhere, Anytime
Manage your campground from anywhere. All you need is an internet connection. Accept online reservations from anywhere in the world.
Real-Time Updates
All reservation changes are immediately shown to every user - no browser refresh needed. This gives you an "at-a-glance" view of your entire site and prevents double bookings.
Site Map
PCM can integrate your existing site map to give you a clear, familiar view of your reservations. Multi site map support allows guests to find their site easily even for large RV resorts.
Secure
Triple redundancy and geo-replicated database backups ensure all of your data is securely stored and never lost. PCI DSS compliant. 128-bit SSL encryption, full audit logging and more.
Point Of Sale
Our fully integrated POS system offers some incredibly useful features for campgrounds. Manage merchandise sales and inventory easily with built-in features that let you record sales transactions, manage products and categories and even get notified by email when low on inventory.
Easy To Use
Can't find something? Don't waste time looking. All screens have full search capabilites built in. Are you a new user? Learn how to use the system quickly using the built-in guided tours. They will walk you through all the common tasks step by step.
"Our customer data base for returns is at 85 percent. The ability for our customers to pick their favorite site is a luxury they have been begging to have for years."

Jeff and Susan Grass, Blue Lake Resort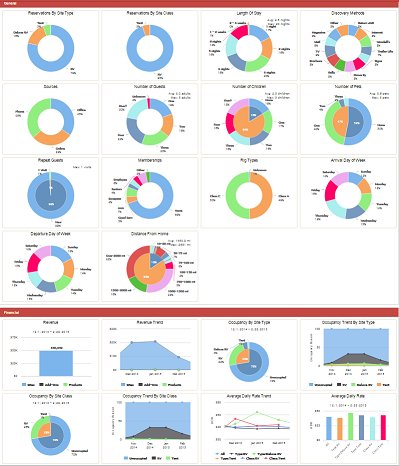 Business Intelligence.
You are going to find tools and reports that are geared to giving you access to ALL of your data, not just the standard who is arriving, who is departing or what sites are available. These tools will provide you with meaningful insight into your business operations, help identify new strategies, increase efficiency and give you a major competitive advantage.
Marketing
PCM has a robust marketing tool that is quite unique to the industry. Want to market to former guests who have children? Want to make a special offer to repeat guests? Want to market to your former guests who have RV's of a certain size to fill those openings on a holiday weekend? It's a few quick and easy keystrokes to generate, send and track your email campaign. There's no need to use an external email marketing site, it's all available right here for no additional cost.
Business Reporting
How have reservations been trending for the past 3 months?

How are customers finding my park?

How far away do my customers live?

What's my most popular site?

How many repeat customers do I get?

How many guests per reservation on average?

What's the most popular day of the week or week of the year?
Quickly find these answers and more in our statistics reports.
Data Export
You own your data and you can download a fresh copy anytime in several different file formats. Retrieve your reservations, customers, sites and transactions quickly using PCM's built in export tools.

You can even get a fresh copy of your reservation data sent to your email inbox every day just to be sure its always at hand.